Brass Metal Stampings, Bronze Metal Stampings, Nickel Silver Metal Stampings
Brass Metal Stampings

There are more than 400 copper alloys, each with a unique combination of properties, to suit many applications, manufacturing processes and environments.
Brass is the generic term for a range of copper-zinc alloys with differing combinations of properties, including strength, machinability, ductility, wear-resistance, hardness, color, hygienic, electrical and thermal conductivity, and corrosion-resistance.
Common brass alloys used at New England Precision include UNS
C21000
C22000
C23000
C26000
C26800
C27200
C28000
C35000
C35300
Brass is often used in the key and lock hardware industry for its machinability. It is also highly used in the fire protection industry for its excellent thermal conductivity and corrosion resistance. Copper is alloyed mostly with zinc. The lower UNS numbers have higher copper content which improves corrosion resistance, thermal conductivity and solder ability. Generally speaking; higher zinc content improves strength. C35000 and C35300 contain lead for machinability.
Reference ASTM B152/B 152M specification for details: (Nominal percentages, based on weight)
CDA 210 / UNS C21000: 95% Copper, 5% Zinc
CDA 220 / UNS C22000: 90% Copper, 10% Zinc
CDA 230 / UNS C23000: 85% Copper, 15% Zinc
CDA 260 / UNS C26000: 70% Copper, 30% Zinc
CDA 280 / UNS C28000: 60% Copper, 40% Zinc
CDA 350 / UNS C35000: 61.5% Copper, 1.1% Lead, 37.4% Zinc
CDA 353 / UNS C35300: 61.2% Copper, 1.8% Lead, 37.0% Zinc
Nickel Silver Metal Stampings
These silver colored copper-nickel-zinc alloys containing 10-20% nickel can be regarded as special brasses. In most respects they show similar corrosion characteristics to the brasses, but the higher nickel versions have superior tarnish resistance and resistance to stress corrosion cracking.
Common nickel silver alloys used at New England Precision include UNS
C78200
C79200
C74500
C75200
C75700
Our nickel silver alloy parts are used mostly in our key and lock hardware for strength, corrosion resistance and machinability.
Examples from ASTM B152/B 152M specification: (Nominal percentages based on weight)
CDA 745 / UNS C74500: 63.5-66.5% Copper, 9.0-11.0 Nickel, Majority of remainder is Zinc
CDA 757 / UNS C75700: 63.5-66.5% Copper, 11.0-13.0 Nickel, Majority of remainder is Zinc
CDA 770 / UNS C77000: 53.5-56.5% Copper, 16.5-19.5 Nickel, Majority of remainder is Zinc
CDA 792 / UNS C79200: 59.0-66.5% Copper, 11.0-13.0 Nickel, Majority of remainder is Zinc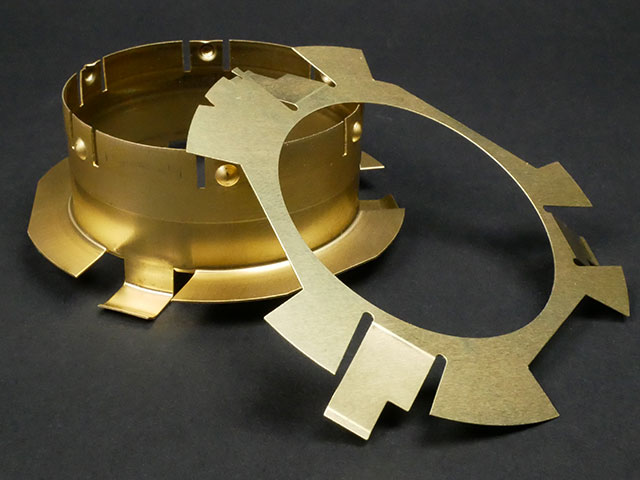 The Buying Edge
New England Precision, Inc. has a leading advantage over other tool and stamping companies by purchasing 5-7 million pounds of copper contained alloys every year. This affords us highly competitive fabrication charges by qualified leading mills. This buying power is significant because of the cost of metal stampings is in the material cost.
We pride ourselves on the ability to offer exceptional and innovative pricing programs. Your options include price/date of order, or firm fixed prices up to two years forward. We also entertain inventory stocking programs for those firms requesting just-in-time inventory levels. This includes stocking levels at our facility as well as off-site, vendor managed inventory. We are happy to fulfill any documentation requirements in order to qualify our products for ship to stock status, eliminating incoming inspections at your location.
In-House Tool and Die
Maintaining a tool and die facility in-house is crucial to today's competitiveness in the stamping industry. With no dies in need of being sent out, New England Precision, Inc. is equipped to systematically tackle any troubleshooting first-hand and in the least amount of time, thus allowing for our continual success in getting product to our customers in the least amount of time.
Mission Statement
NEP's mission is to successfully develop the necessary technology to design and build progressive tooling at the forefront of industrial demands. The tooling will be utilized along with material from qualified suppliers in an efficient systematic production facility to produce high quality stamped products.
The products will be sold to a diverse group of successful customers. Their loyalty will be earned by exceeding their expectation with quality and service. Partnerships will be formed with growth, opportunity and prosperity for our customers, our people and our community.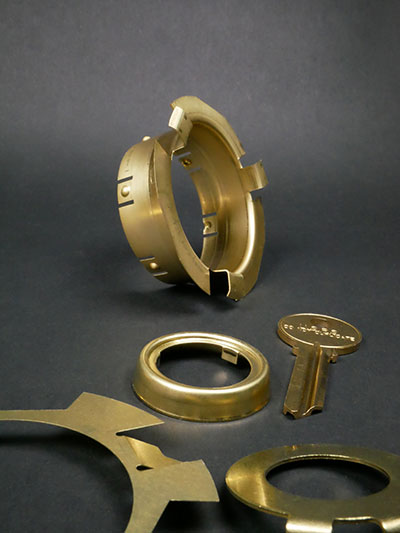 New England Precision Inc.
281 Beanville Road
Randolph, Vermont 05060
800-293-4112