Facilities
We are an ISO 9001:2015 and IATF 16949:2016 registered company located in central Vermont with easy access to major highways and airports. The plant is a spacious and modern 80,000 sq. ft. air-conditioned facility.
Customer Support:
We have developed custom integrated software for:
Job tracking
Customer order status inquiries
Purchasing and inventory control, including off-site stocking programs
Shipments, Invoicing, packing slips, programmed bar code labeling, Certifications
Barcode Inventory System:
Raw material
Metal stampings
Finishing and secondary work in process
Finished goods
Design Engineering Equipment:
New England Precision, Inc. has a highly skilled design engineering team equipped with the latest CAD/CAM software, computers and plotters.
Wire EDM Equipment:
Mitsubishi BA8 wire EDM (self-threading)
Mitsubishi MV2400R wire EDM (self-threading)
EDM Hole Drill
Quality Assurance Equipment:
All measuring instruments are calibrated to conform to ISO 9001:2015 and IATF 16949:2016 requirements. We meet or exceed all customer quality requirements utilizing the latest measuring equipment and inspection equipment. Some of these are:
Visual SPC shop floor workstations and SPC analysis pack
Custom, in-house designed gages for fixtures, functional gages and Go / NoGo gages
Starrett HDV300 Visual Comparator
(4) Starrett HB400 Optical Comparators with Quadra Chek-200
United TRU BLUE II Rockwell Hardness Testing System
Rockwell Tester (3JR-9843)
Master Mitutoyo gauge block set
Mitutoyo Drop Indicators
Mitutoyo Dial Indicators
Mitutoyo Micrometers: including flat, ball, disk and pin micrometers for special applications
Milling micrometers
Mitutoyo Calipers
Flexbar .006″ to .060″ minus gage pin set
Flexbar .011" to .250" plus gage pin set
Flexbar .061″ to .250″ minus gage pin set
Flexbar .251″ to .500″ minus gage pin set
Flexbar .251" to .500" plus gage pin set
Special Go / NoGo pin gages for product specific requirements
81 Piece gage block set
18″ by 24″ inspection grade granite plate accurate to .0001
Microscopes, inspection glasses, eye loops, well-lit press room, QA and inspection areas
Weight and piece counting scales for weights with a precision level down to 0.02 grams, all the way up to Floor Scales for weights as high as 10,000 lbs. Many of our small parts are piece counted using Setra Super II Scales with 4.4 x 0.00005 lb remote scales to obtain better piece count accuracies.
Tool Room Equipment:
Surface Grinders:
(2) Harig 6 x 18 surface grinder
(2) Okamoto 6″ x 18″ surface grinder
Boyar Schultz 612 head 6″ x 18″ surface grinder
Jones & Shipman S40 6″ x 18″ hydraulic surface grinder
Okomoto ACC 16-24x
Jones & Shipman 6″ x 18″ surface grinder
Millport II 618 6″ x 18″ surface grinder
Gardner 6 x 18 surface grinder
Milling & Jig Boring Machines:
(2) TRAK CNC 3-axis milling machine
(4) Bridgport Series I 2 hp vertical milling machines
(2) Clausing drill presses
Lathes:
]TRAC TRL 16305X
Turnmaster 15″ X 50″ tool room gap lathe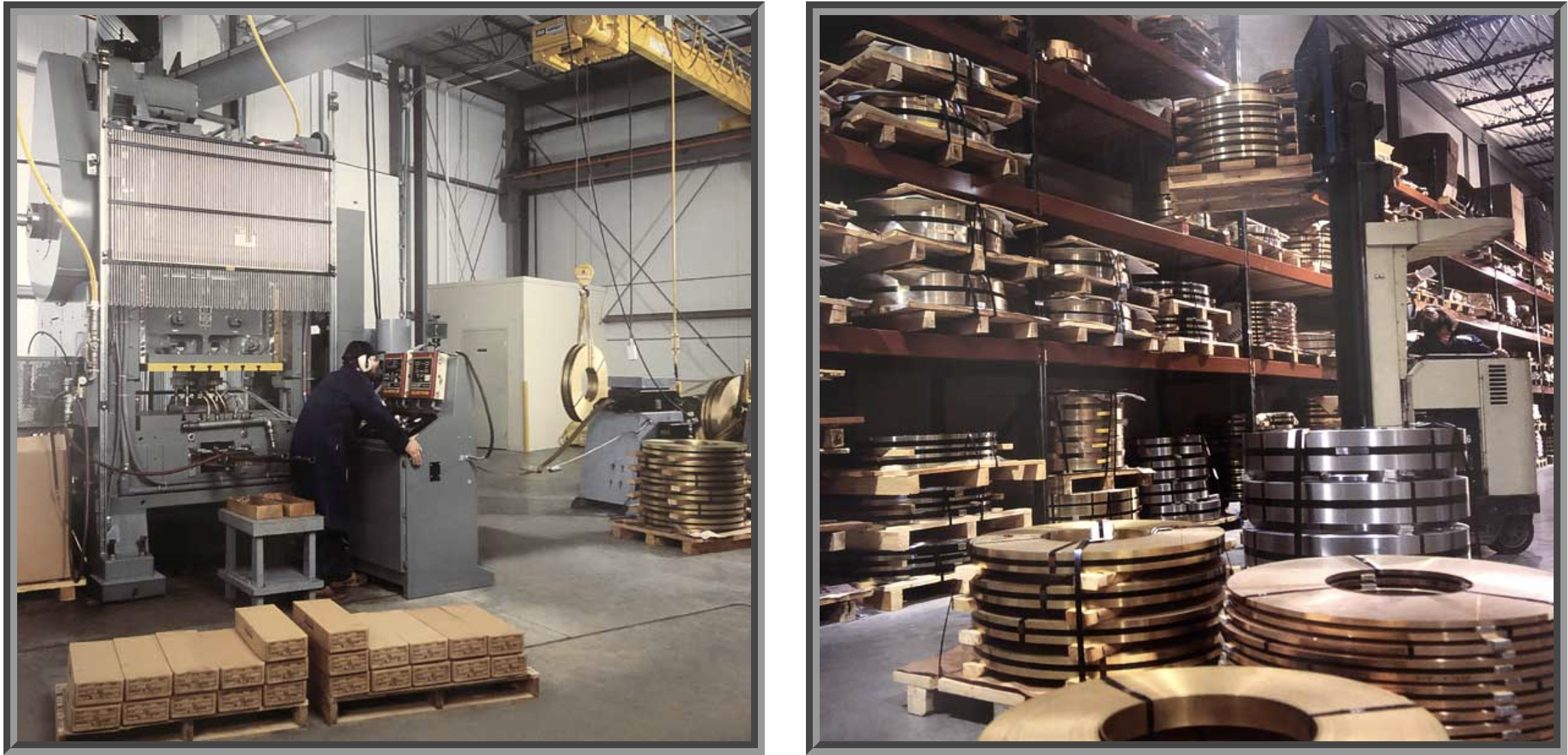 Miscellaneous toolroom support equipment:
(1) DoAll ML 16″ vertical band saw
Lucifer electric heat furnace & tempering oven
Pacemaker air compressor
W.F. Wells L-10 auto horizontal cut-off saw
Disc grinder
Miller Synchrowave 250 welder (tig & arc)
Ramco 55 ton industrial hydraulic press
Pedestal grinder
Stamping Presses:
Press # 1 Minster 100 ton -Servo roll feed
Press # 3 Minster 100 ton -Mechanical Roll feed
Press # 4 Minster 100 ton -Vamco servo feed
Press # 5 Minster 75 ton -Servo roll feed
Press # 7 Minster 60 ton OBI -Peterson roll feed
Press # 8 Bliss 45 ton Roll feed
Press # 9 Minster 45 ton -Roll feed
Press #10 Minster 160 ton -Servo feed
Press #11 Minster 75 ton -Air or Servo feed
Press #12 Minster 100 ton -Mechanical Roll feed
Press #13 Perkins 35 ton -Peterson roll feed
Press #14 Perkins 45 ton -Servo feed
Press #15 Minster 45 ton -Vamco feed
Press #18 Minster 60 ton -Servo feed
Press #19 Minster 32 ton -Air feed
Press #20 Perkins 45 ton -Peterson roll feed
Press #21 Minster 75 ton -Servo feed
Press #22 Minster 32 ton -Servo feed
Press #23 Minster 45 ton -Servo feed
Press #24 Perkins 45 ton -Peterson roll feed
Press #25 Amada 200 ton -Servo feed
Press #26 Minster 75 ton -Servo feed
Press #27 Amada 200 ton -Air feed
Press #40 Minster 100 ton -Servo feed
Press #41 Minster 100 ton -Servo feed
Press #42 Minster 100 ton -Servo feed
Press #43 Minster 45 ton -Air or Servo feed
Press #61 Bruderer 18 ton -Roll feed
Press #62 Bruderer 18 ton -Roll feed
Press #63 Bruderer 18 ton -Roll feed
Press #71 Minster 45 ton -Vamco feed
Press #72 Bliss 45 ton Vamco feed
Press #80 Bliss 45 ton Servo feed
Press #81 Bruderer 25 ton -Roll feed
Press #82 Bruderer 25 ton -Roll feed
Press #83 Bruderer 25 ton -Roll feed
Key Finishing Equipment:
HME Coinmaster 1
(4) GIULIANI FC 7-1 Key Milling Machines
(2) GIULIANI Multimill FDC.8/1 and FC8-1 Milling Machines
Metal Finishing Equipment:
Ransohoff aqueous wash and heated air dry line
Blackstone-Ney AS-3000 Ultrasonic wash line
Industrial Partswash system RB-300
(2) Almco burnishing system Model # V-10S w/MHS
Almco barrel tumbler, aqueous wash and heated dry
(2) Sweco vibratory tumble deburring machine
(2) New Holland Centrifugal dryers
Henderson barrel tumbler
Rampe vibration deburring machine
Royson cleaning/deburring machine
(2) Small part vibratory bowl tumblers
Other Services Offered (done by NEP approved outside vendors):
Plating
Painting
Powder coating
Heat treating
Tapping
Misc. secondary operations

New England Precision Inc.
281 Beanville Road
Randolph, Vermont 05060
800-293-4112